Our team have been hard at work throughout lockdown and we are delighted to announce that we have built and launched a brand new website for DeepStore.
Who are DeepStore?
DeepStore is the UK's largest underground storage company and they have been providing their clients with efficient and convenient document and records management services and longer-term archive and artefact storage solutions since 1998.
The company is based in Winsford, 150m below ground in Britain's largest salt mine.
Working together throughout lockdown
DeepStore are industry leaders and needed their online presence to reflect this.
Having agreed initial concepts with DeepStore, the current pandemic struck and most of the world went into lockdown, but that didn't stop our team!
With a mix of agile working, frequent Zoom meetings and through implementing enhanced safety measures in our office environment, we continued to work closely with DeepStore throughout lockdown.
One of the key challenges we faced during this period was the production of a company video, however, we picked up the gauntlet that the pandemic threw down and worked with DeepStore to establish a safe working environment and produce a company video that excellently showcases their services, facilities and company philosophy.
You can view the video below.
The website
With over half the world's internet traffic now coming via mobile, it is essential that DeepStore's new website is accessible on any device and so we got to work to produce a website that is now fully responsive and mobile-friendly.
Our talented graphic designers have created a website that boasts a clean and uncluttered design that not only mirrors DeepStore's well organised and maintained storage facilities, but also appeals to SERPs.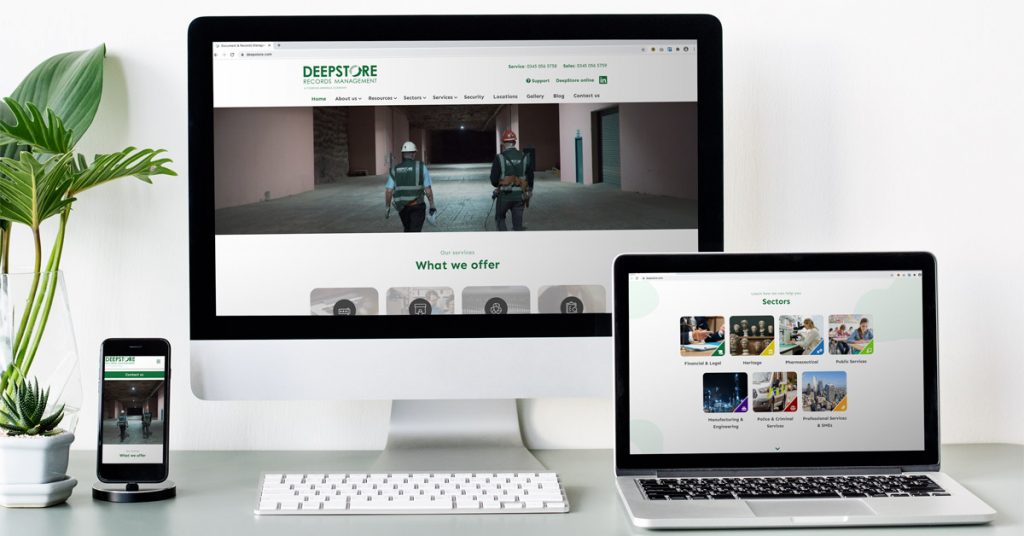 The eclipse marketing SEO team also conducted extensive keyword research, mapping and analysis to give DeepStore's new website the best possible chance of ranking higher for their target keywords.
Finally, our web team brought everything together with their expert coding and by producing a staging site that allowed both DeepStore and ourselves to test, test and test again before launch.
Throughout lockdown, our working process remained fluid and thanks to the excellent collaboration between both DeepStore and ourselves we have created a website that not only showcases DeepStore's services, but it will also act as a tool that will continue to push the business forward for years to come.
It's been a pleasure working with the DeepStore team, and due to the unique circumstances, we can honestly say this has been a project unlike any other we have completed before, but we believe the results speak for themselves.
You can see the final results! Visit the website.
We are now excited to move on to the second phase of our relationship with DeepStore who have chosen us to be their long term marketing partner, which will see our digital marketing team implement a new PPC and social media strategy, in addition to an enhanced content marketing plan.