Caribbean Reunion Club is Europe's number 1 Travel Club who specialise in offering the very best flight fares and holiday packages available from the UK to the Caribbean, the USA and Canada.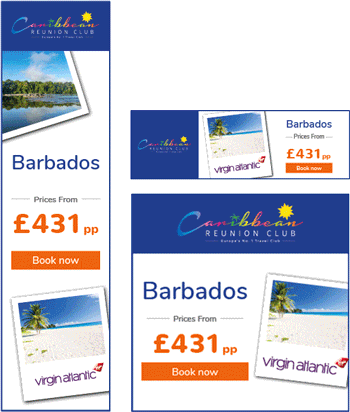 Google Adverts
Carribean Reunion Club wanted to get ahead of the competition and there's no better place to start than a well thought out Google Ads strategy.
Our Digital Marketing and PPC team devised and implemented a comprehensive ad campaign, focusing on driving leads, increasing enquiries and ultimately boosting sales for the client, through optimised remarketing and search adverts.
Promotional Videos
We helped take Carribean Reunion Club's customer care to the next level by creating a series of informative promotional videos, focusing on holiday essentials and promotional events.
Social Media
In a competitive market, it's essential that the Carribean Reunion Club's social media presence is strong.
By establishing a definitive brand voice, introducing innovative content ideas and utilising design-led, high-quality branded imagery we boosted their social following and helped them build a more meaningful relationship with their customers.